4/1-3/1499 DR
TREASURE
ITEM

RECIPIENT

LOCATION

FOUND

NOTES

Amulet of Health +1
Vistra
Fey Bedroom
Hidden in the decaying wardrobe
Orb of Inevitable Continuance
Shaika
Feywild Library
This was found on the body of a gnome illusionist
Frost Spear
Grommel
Feywild Armory
Lost among other rusty weapons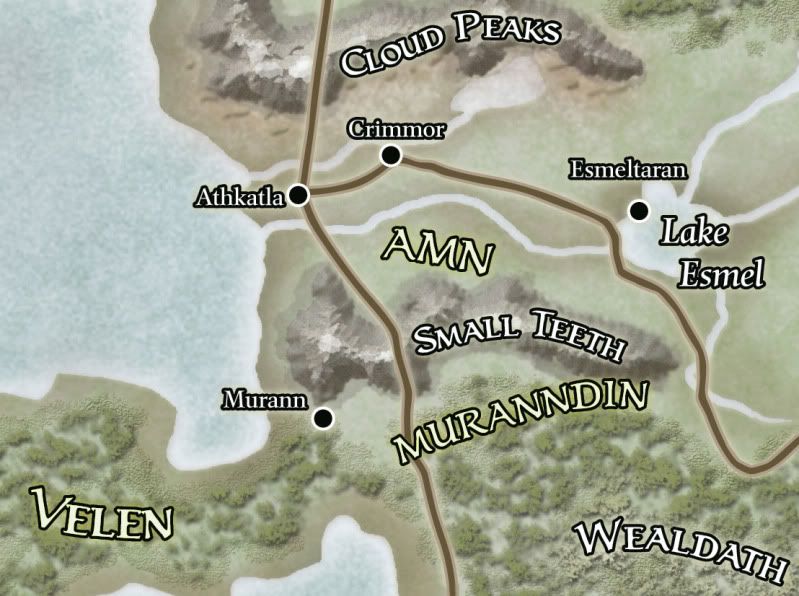 Every year in the metropolitan merchant city of Harkenwold, near the Wealdath Forest, the prestigious Death Gate Guild holds classes and has try outs to see who will be hired as Guild Mercenaries. Many try out, but few are accepted. The guild guards it's prestige by holding its members to the highest of standards. This year, four travelers from different parts of the world have found themselves trying out for the Death Gate Guild, not knowing that fate had brought them together for a reason. Gromel – a male Warforged Warlord from the Thayan area, Shaika – a female half shifter, half genasi Wizard from the Dalelands, Vistra – a female Dwarven Fighter, and Zed'rath – a male Drow Rogue/Scout from the Earthroot Underdark region found under Thay. We had proven ourselves in all of the preliminary test, but now it was time for the final test.
Barakus, a large battle-scarred Tiefling and the head of the guild, paired the four of us together and called us into his office to give us the final test. He told us that aside to give us our final test. Lord Arthur Severins is a huge supporter of the guild and he needs a job done for him personally. Failure will look badly on the guild (no pressure). Recently, Lord Severins wife grew ill, died, and was then resurrected through a ritual, but ever since then she's been acting odd and melancholy. Two days ago, the town lost contact with Severin's Manor, where he'd taken his wife to recover. He let us kow that our job is to head to the manor and to deal with this issue. Success will net us all places in the guild. We are then dismissed from his office. A Tiefling named Samael and a Dragonborn named Searynox, step forward and give us instructions to the manor. It lies to the East of town, the farthest one before the wilderness.
SEVERIN'S
MANOR
After stocking up on supplies, we head out to the manor, finding it with relative ease. Halfway up the lane leading to it, we hear screaming. I (Zed) go into stealth mode, carefully making my way between the lined trees and hedges to try and assess the situation, while Gromel strides right up the lane and into the open front door.
Severins Manor (#'s match rooms on Map, letters match teleport locations)
1. Entryway – Lord Severins and several servants are here barricading the way between the foyer and entryway hall. Lord Severins has dark eyes, peppered dark hair, fine robes which are now tattered and covered in blood. Even with the barricade they're not sure how long they can hold their unseen attackers back. Lord Severins seems unimpressed with us but will take any help he can get. He tells us of how they've heard music coming from places it shouldn't, they run into unseen people who they could touch and talk to, but afterwards can't remember. Shaika and I leave Gromel and Vistra talking to the Lord while we go into the Library to speak with the old mage. Gromel also begins to help add more furniture to the barricade.
2. Library – Master Teranor, the wizard, in here looking through books in the library. He's an old man and he tells us that he's left his spell book behind in his room (in the far NE corner of the manor). Shaika and I look at each other like we can't believe that a mage would ever leave his spellbook behind. Master Teranor is the one responsible for raising Lady Severins from the dead, but instead of using a known ritual, he admits that he used some ancient power that we'd never understand and he then draws us a map of the manor so we don't get lost and so "nothing disappears." We return to the Entryway, finding Gromel and Vistra wanting to move on.
3. Lady's Room – The four of us are lead by Lord Severins in to see his wife. Lady Rosalie Severins is resting on an overstuffed couch. She's younger than the Lord, very lovely, but she looks overly pale and exhausted and something doesn't seem right with her. The other barricaded doors in this room look like they've been assailed from the outside. When we ask Rosalie more about her illness, she admits that she'd been very healthy, but suddenly fell ill and quickly died. She awoke on an alter missing her pinky finger, not like it had been cut off, but as if it had never been there. She tells us that she's always exhausted from dancing all of the time, even though her husband tells us that she's never left the room. Rosalie tells us a story about miniature people who took over a kingdom, but then she's so embarrassed she never finished her story, almost like she can't say more. We head out of the lady's room to the East
4. Servants Quarters – in this small room we are attacked by 3 Gnomes who try to skulk around the room and attack us unseen. Luckily, our group is quick to find them and take them out.
5. Servants Beds 1 – There are 2 bunk beds and 2 trunks. I found 5 gold and some gems in the lockers, but left the gold behind for the servants.
6. Servants Beds 2 – This small room has 3 bunks and 2 footlockers, and only 1 gold
7. Hallway 1 – North of the servants quarters is a hallway filled with tapestries. As soon as we step into the hall, bells sound, the room twists around us and we find ourselves in the same hall, but now it's older than before, the tapestries are old and decayed, there's dust on the floor. Looking outside the only window, Shaika is able to figure out that somehow we've been teleported into the Feywild (a).
8. Fey Bedroom – At the end of the new hall is a bedroom with a rotted 4-poster bed and wardrobe. In the wardrobe we find a shiny Amulet of Health +1 which Vistra took to enhance herself.
9. Ballroom – The other end of the hall opens into a huge ballroom where melancholy/bizarre music is playing. The candlelight in the room seems odd, almost like it's lighting more than just what we can see. As I step into the room, on the floor I notice that something is moving above me. I look up and realize that there are people dancing on the ceiling, 50' above us (or maybe we're on the ceiling). We can see Rosalie up there dancing among the others. Vistra calls to her, but she can't hear us, so I take a coin and throw it at her, hitting her dead on. The other people in the room disappear except for Rosalie and an Eladrin man who screams at me, with magical amplification, in Elvish. "This is what he sends? How dare you come and ruin my ball. Well, on your world you have hounds, on my world we have other things." As he says this he and Rosalie disappear and two cat-like creatures (Fey Panthers) climb down (or up) the walls to attack us. They give us a good fight, leaving us bloody, but in the end we're able to beat them and Shaika takes the time to skin them, hoping their pelts might be worth something back home. As we leave, Vistra blows out the candles, just to see what would happen. Nothing.
10. Halway 2 – We enter another normal hall with banners on the wall that look like they belonged to ancient Drow Houses (1000+ years ago).
11. Library – This room is lined with bookshelves with crumbling old books turning to dust, a rotted desk, and a faded picture of an Eladrin (Nymisian) above the cold fireplace. As we're searching the room we're attacked by 3 gnomes. On one of them, Shaika found an Orb of Inevitable Continuance.
12. T-Intersection – As we leave the library and step back into the intersection, bells sound and we're pulled back into the normal world (b).
13. Private Lounge – This decadent lounge obviously belongs to Lord Severins and everything in the room is nailed down, showing that he bought into his father's logic that no one is to be trusted, but nothing of real interest is in the room.
14. Hallway 3 – As we step out of the lounge, we hear bells and try to jump back into the lounge, but it's too late and we're sucked back into the Feywild ©.
15. Sloped Hallway – This hallway slopes down and is covered in bones. As we step forward, some of the bones animate and attack, but the bones seem ancient and barely held together. When the first group is dead, a second group rises up to attack us.
16. Old Armory – Most of the weapons and armor are rusted and falling apart, but in the corner we find a magical Frost Spear which Gromel knew that he could use.
17. Storage Room – As we step into the old storage room, we didn't get much time to look around before the bells sounded again and found ourselves back in the real world (d).
18. Teranor's Room – Through a round about way, we found our way to the Wizard's Room and his book was set on a pedestal in the middle of the room. Everything else in the room was protected by magical wards and we were afraid of touching anything.
19. Eladrin Library – As we step out of the Wizard's room, back into hallway 1, we're teleported to a rather nice Library. Leaning on the desk is our Eladrin nemesis. "Did you think I'd make it easy on you? Here's some old friends," he tells us in Elvish before teleporting. 2 Fey Panther attack. Once we kill them, we find nothing in the room but dust. As we leave, we are teleported back (f)